Housekeeping Services For New York City, The Five Boroughs, and the surrounding areas
Save Time, Energy, and Stress
Why not spend more time enjoying your home and family by letting Safety Clean handle the housekeeping? Your home should be a place of respite from the stress of work, school, and everyday business. Safety Clean makes it possible for you and your family to enjoy a clean, healthy home environment without the stress of handling the home cleaning chores.
Professional Services with a Personal Touch
Safety Clean is a boutique cleaning service company dedicated to providing more than boilerplate solutions. We understand that every family is different…and so is every home. Some families enjoy preparing meals at home, while others spend more time dining out. Busy executives may spend less time at home while retired empty-nesters may spend much more time at home. Different lifestyles require different cleaning solutions and Safety Clean tailors our housekeeping services specifically for your family.
BOOK NOW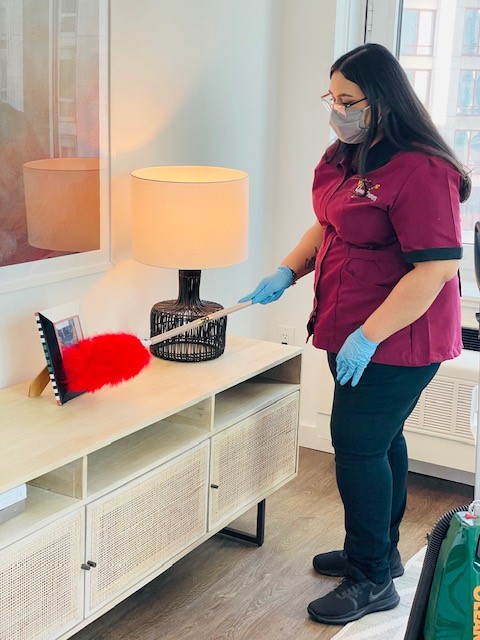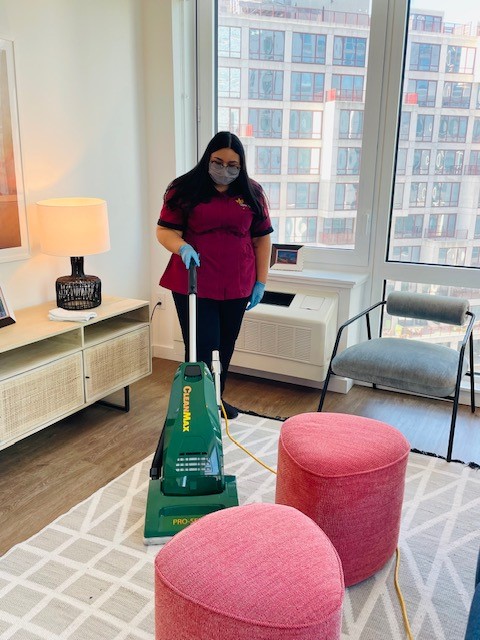 Customized Services
Total customer satisfaction is priority one at Safety Clean. That's why we spend time learning your cleaning preferences and making sure we know your priorities so we can deliver customer-centric service. Our cleaning team will come prepared with a cleaning plan approved by you to ensure your home is cleaned the way you want it cleaned.
The Affordable Housekeeping Solution
By providing non-union housekeeping services, Safety Clean can deliver our services at lower rates than most other NYC cleaning companies. We work diligently to maintain lower operating costs to keep our prices extremely competitive. You get the highest level of professional services from a highly trained and experienced crew that shares our passion for customer satisfaction.
BOOK NOW
Housekeeping Cleaning Rates
---
| | | | |
| --- | --- | --- | --- |
| One-Time Service | Monthly | Bi-Weekly | Ongoing Weekly |
| Studio: $95.00* | $90.00 | $85.00 | $80.00 |
| 1-Bedroom: $150.00* | $140.00 | $135.00 | $130.00 |
| 2-Bedroom: $200.00* | $185.00 | $180.00 | $175.00 |
| 3-Bedroom: $250.00* | $225.00 | $220.00 | $210.00 |
Extra Services
DEEP CLEANING: $350.00: Intense deep cleaning, included cleaning soap scum/scale from bathroom & kitchen tiles, behind appliances (including inside oven), and dusting all baseboards, window frames & doors.
Refrigerator Cleaning: $30.00
Inside Cabinets: $40.00
Mildew removal bathroom: $30.00
COVID-19 E-Spray: Stand-Alone $175.00 / Add-On to Cleaning $38.00
* Interior cleaning of apartment entails sweeping, mopping, dusting, wiping cabinet faces, countertops.
Wiping down refrigerator – exterior only.
Bathrooms: wipe down walls, countertops, fixtures, toilet, and tub/shower.
Vacuum area rug, if any.
Interior window cleaning.
Service does not include laundry.
Service will begin within a two-hour window of time booked.
BOOK NOW
Quality People You Can Trust
Our housekeeping crew undergoes an extensive background check before they ever become a member of Safety Clean's staff. Our vetting process ensures that you receive top-notch cleaning services from individuals who are fully insured for your protection. With our top-down philosophy, our project managers ensure that every job is completed at a level that exceeds customer expectations.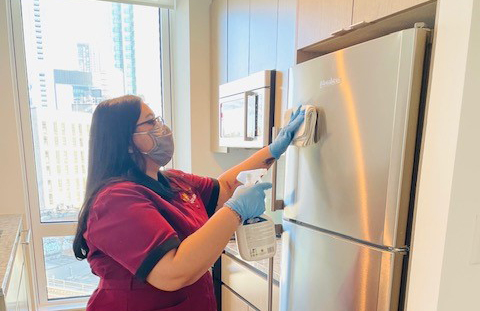 Our team provides whole-house cleaning
Of course, we can add or remove services and spaces as you request.
Our team cleans any room, including:
Kitchens
Laundry Rooms
Living Rooms / Great Rooms
Dining Rooms
Bedrooms
Bathrooms
Any Additional Rooms (home offices, recreation rooms, etc.)
Our housekeeping services include, but are not limited to:
Floor cleaning/maintenance
Appliance wipedown
Vacuuming
Dusting
Changing Bed linens (per request)
Clean & sanitize Bathrooms
Additional Cleaning Services
Safety Clean is happy to provide additional services, including our specialty cleaning services so you'll always receive the results you want. Ask about our DEEP cleaning services for your home.
Safety Clean provides housekeeping services for:
Apartments
Condos
Townhomes
Single Family Homes
Vacation Homes
And More!
Ready To Get Started? Book Online or Call today!
Cleaning Services in the 5 Boroughs of New York, and surrounding areas
212-868-5151